School and Group Purchases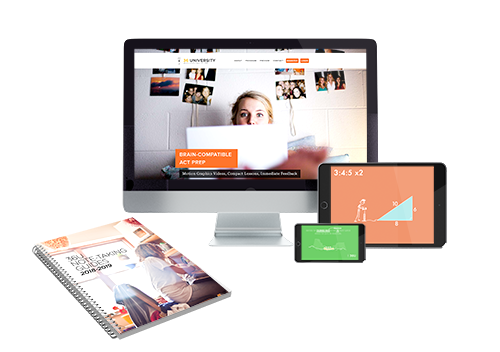 Does your school or co-op have an ACT Prep class? You'll love our only-one-of-its-kind semester curriculum. We provide the instruction, the semester pacing guide, and take care of the grading.
Would you like your guidance counselors, teachers, and coaches to be able to give accounts to students who need more points their ACT score? Use one code to facilitate account creation throughout your school.
Group Purchases of Individual Accounts
Schools, school systems, and homeschool co-ops that purchase 20 or more accounts are eligible to receive significant discounts on semester and full-year accounts.
Student progress monitoring and real-time grade reports
Group purchases receive complimentary teacher accounts that have access to the full 36U ACT Prep curriculum (for planning purposes), student progress monitoring, and real-time grade reports. One teacher account is provided for each set of 20 student accounts.
Note-taking Guide Workbooks
ACT Prep classes LOVE the full-color, spiral-bound note-taking guide workbooks. The note-taking guides accompany the motion graphics lessons. The 65-page workbook includes a semester pacing guide and the note-taking guides for English, Math, Reading, and Science. Click for more info on the note-taking guides.
All note-taking guide workbook materials are accessible for print and electronic-fill within the online program. We provide the opportunity to purchase bound, full-color editions for a reasonable price to provide a higher quality print in an organized, bound medium. Teacher editions are also available (printed versions or free .pdfs).
We look forward to serving your students!
Kendal Shipley, Ed.D., 36U President