Student Successes
LOVE active graphics. The concept comes through clearly without being overshadowed by razzle dazzle. LOVE the option of the note-taking page.
Dr. Amy Cochran
Nashville, TN
We love your product. It helped my daughter raise her ACT score to a 28 and that got her an $8000 scholarship!
Tonna D.
KY Mom
I just wanted to let you know how impressed we were with this class that my daughter took w/ you last Spring. She had originally scored a 28 on the ACT and after the class scored a 31. Several colleges have now offered her thousands of dollars based on her score (BAMA offered $17,000 per year!!).  
Amber W.
TN Guidance Counselor
Joseph H
I turned to 36U after taking the test 3 times.  I went from a 33 to a 36!
Joseph H
LaFayette, GA
After 36 University, my daughter's math score on her ACT shot up 8 points!! Great program!!! Everyone's child should take it! 🙂
Jodi U.
ASL Interpreter, GA
36 University helped me raise my ACT score 5 points. Kennesaw State, here I come!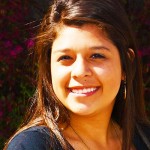 Tiffany Reyna
GA Student
My son raised his score from a 26 to a 31!
Dr. Lawson
Homeschool Leader, Knoxville, TN
It is a great product and has made my life much easier this semester!
Mr. Underwood
ACT Teacher, Chattanooga, TN
My Math score went up 5 points and my Reading score went up 9 points! Thank you so much for the help.
Caroline J
GA Student
Test-taking wasn't my thing. 36 University helped me raise by ACT Science score 8 points and my English score 5 points!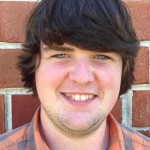 Corbin K.
GA Student
My son likes the program and uses it extensively. Before using 36U he received a 22. After working on 36U, he received a 26.
Lisa H.
Homeschool Mom, SC
We had five of our students commit to using your program as a test to see if your program worked. Their scores went up, on average, five points per section!
Cross Creek
Sewanee, TN
Just wanted to let you all know that Noah got his ACT scores today and thanks to 36U, he gained at least 2 points on each section and 4 on the Math and he only used it for about two weeks before the test. He said it really helped. Have a Merry Christmas.
Bob W.
National Scouting Report
I wanted to share our excitement for Bryce today. He increased from a 16 to a 21!!! Hallelujah!!! Thank you for your help with 36 University. We are BEYOND grateful!!
Vicki T.
Public School Mom, GA
I enjoyed your program so much! Your Reading and English sections helped me the most. I brought my English score up from a 20 to a 23 and my Reading from a 16 to 23!! Thank you so much.
Madison B.
TN Student
I just wanted to let you know that her overall score went from a 26 to a 29 after working through your materials. Thank you! Your program was wonderful, easy to use, and very helpful!
Laura C.
Homeschool Mom, NC
My daughter got what she needed on her ACT score, and more. We will do all we can to spread the word about 36U.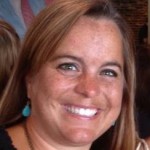 Amy C.
Teacher, GA
I watched your math videos a couple of times. My math score went up 4 points. I gained 3 points overall.
Austin C.
GA Student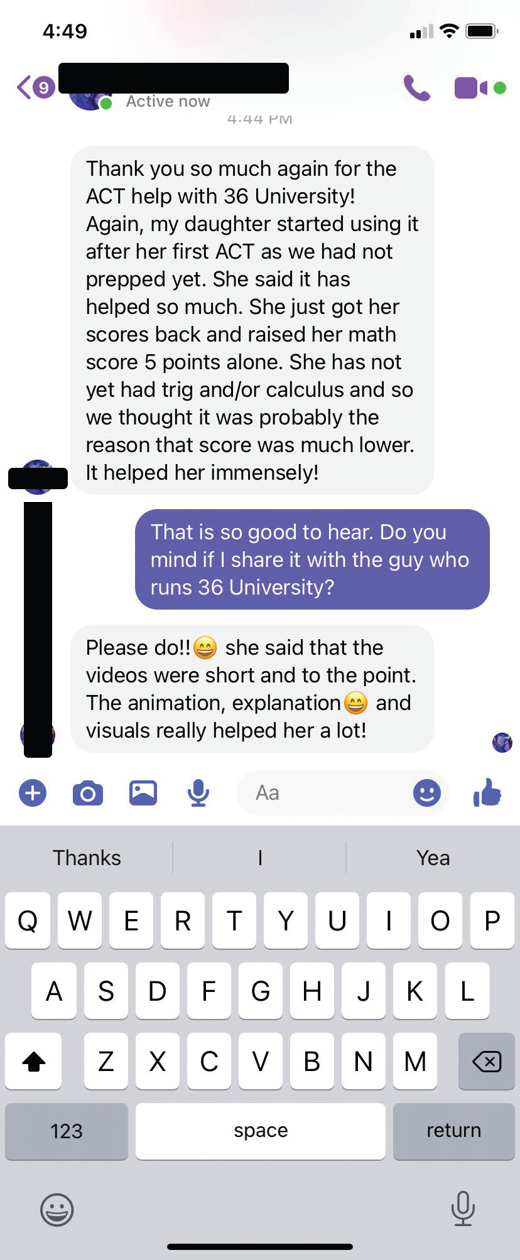 Anita H.
My two grandsons used your program. One gained six points on his English score and is now getting $14,000 in academic and athletic scholarship money. The other raised his total score from 20 to 24. You have a wonderful course!
Betty W.
Ohio Grandma